SESSION:

Short and Sweet: The Politics of Canvas: Martu Collaboration Online In Person with

Curtis Taylor and

Martumili Artists
---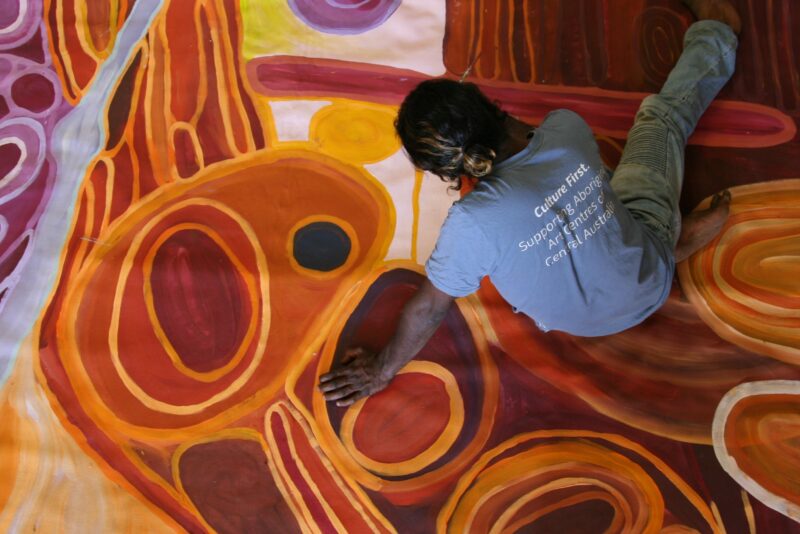 AEST: 02:00pm - 02:30pm
ACST: 01:30pm - 02:00pm
AWST: 12:00pm - 12:30pm
---
Projects like the 'Kintyre canvas' occupy and articulate 'The Space Between'. They not only provide a contextual link between people, place and practice, but also demonstrate how art can be a powerful force to advocate and enact social change.
A collaborative canvas by Martu artists is a seminal, staple work for any survey of artistic practice concerning the Aboriginal art movement of the Pilbara. In 2020, across 41 days in the remote Martu community of Parnngurr, four senior Martumili Artists – Muuki Taylor, Wokka Taylor, Nola Ngalangka Taylor, and Kumpaya Girgiba – worked on a massive canvas with emerging stars Judith Anya Samson, Corban Clause Williams, Mayika Chapman, Ignatius Taylor, and Curtis Taylor.

The canvas references Karlamilyi, an area spreading across 1.5 million hectares of remote Country where the Great Sandy and Little Sandy deserts intersect. These are the traditional lands of the Martu people, containing a 'unique desert ecosystem of ephemeral rivers, creeks and salt lakes' (www.wanfa.org.au). A meeting place for desert peoples over millennia, Karlamilyi has an abundance of water, wildlife, important ceremonial sites, and hunting grounds.
Led by independent Martu artist Curtis Taylor and facilitated by a Martumili staff member, three representatives from Martumili Artists will discuss the Kintyre canvas, the process of 'marlpa,' and the significance of this work as a political statement "speaking" for place, people and the ideological spaces between.
Image: Martumili Kintyre canvas in progress, 2020. Image courtesy of Martumili Artists.