nbn
nbn is focused on supporting the digital transformation of the local arts and culture industries to drive engagement and build a growing audience for homegrown Australian creative content.
The arts sector plays a pivotal role in weaving together the fabric of Australian local communities and provides much-needed support to local economies.
By supporting and working collaboratively with industry partners, we aim to address the connectivity needs of the sector, as well as enabling innovation and access to digital platforms for creators to build their presence and participate online.
It's our goal to encourage consistent opportunities for both audience and creators, through supporting digital infrastructure, helping to improve digital literacy and access, and strengthening the global reach for homegrown content makers.
Jennifer Ganske
Head of Segment, Tourism and the Arts at nbn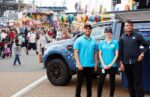 We are keen to listen and better understand your challenges and digital needs.
Come and speak with us at Artlands and have your connectivity questions answered.
How can I gauge and improve my online skills?
Having the ability to communicate online with friends and family, operate a device or securely store your data has never felt more important. That's why we've developed our
nbn™ Digital Capability Tool.
This short survey is designed to help measure your digital know-how, and take your online skills to the next level.