SPEAKER:

Yazmyn Butcher
---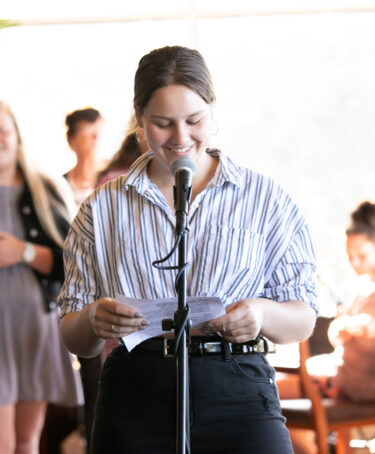 Yazmyn started Project O in 2017 when she was in year 9 at Wynyard High School. Reflecting on her involvelment this year, Yazmyn said Project O was so integral it was 'part of her growing up'. If Yazmyn could give one piece of advice to younger girls in the program, she would say 'try and take as many opportunities as possible'. Her sister Makaylah is currently a participant in Project O.
During her time in Project O Yazmyn showed great strength and courage, overcoming many obstacles and becoming a leader in the group - speaking up on issues around family violence, and environmental awareness. Yazmyn had the opportunity to travel to Canberra to meet with Opposition Leader Bill Shorten - advocating for support and funding for Project O and the young women in her community. She was also invited to speak via videoconference to the United Nations Committee on the Rights of the Child - speaking about her own experience of family violence and the challenges around service provision and support in regional communities.
At the start of 2021 Yazmyn was awarded a full scholarship to study Media Communications at UTAS, and is living and studying in Hobart.